I've been working as a growth specialist at Treblle for almost a year, so it's probably a good moment to reflect on everything we've been doing.
Treblle was founded in July 2021., and officially launched in December 2021. I'll go over everything we did and learned in this process.
Just a little bit of my own background. Before Treblle I've mainly worked in small companies as a digital marketing specialist mainly focused on social media, and producing content. Later on, I took the same gig as a freelancer before I got in touch with Vedran and Treblle.
Things moved on super fast from there and suddenly I was in the SaaS world with a product aimed at developers. Pretty fast, I learned, that marketing is a forbidden word in this space xD

More on that later..
Perpetuum Mobile of Tech Startups
The world of Tech Startups moves at a fast pace. By some statistics, there were 2 - 3 new tech startups launched everyday in 2019, and that number surely went even higher by now. A shocking 90% of startups fail, and only 4% live to see their series A.

So the Perpetum Mobile of Tech startups musters a lot of new products and solutions, and, unfortunately, most of them do not succeed, and fail really quickly. So, you see how a startup can be under pressure to get things done super fast and show growth as quickly as possible.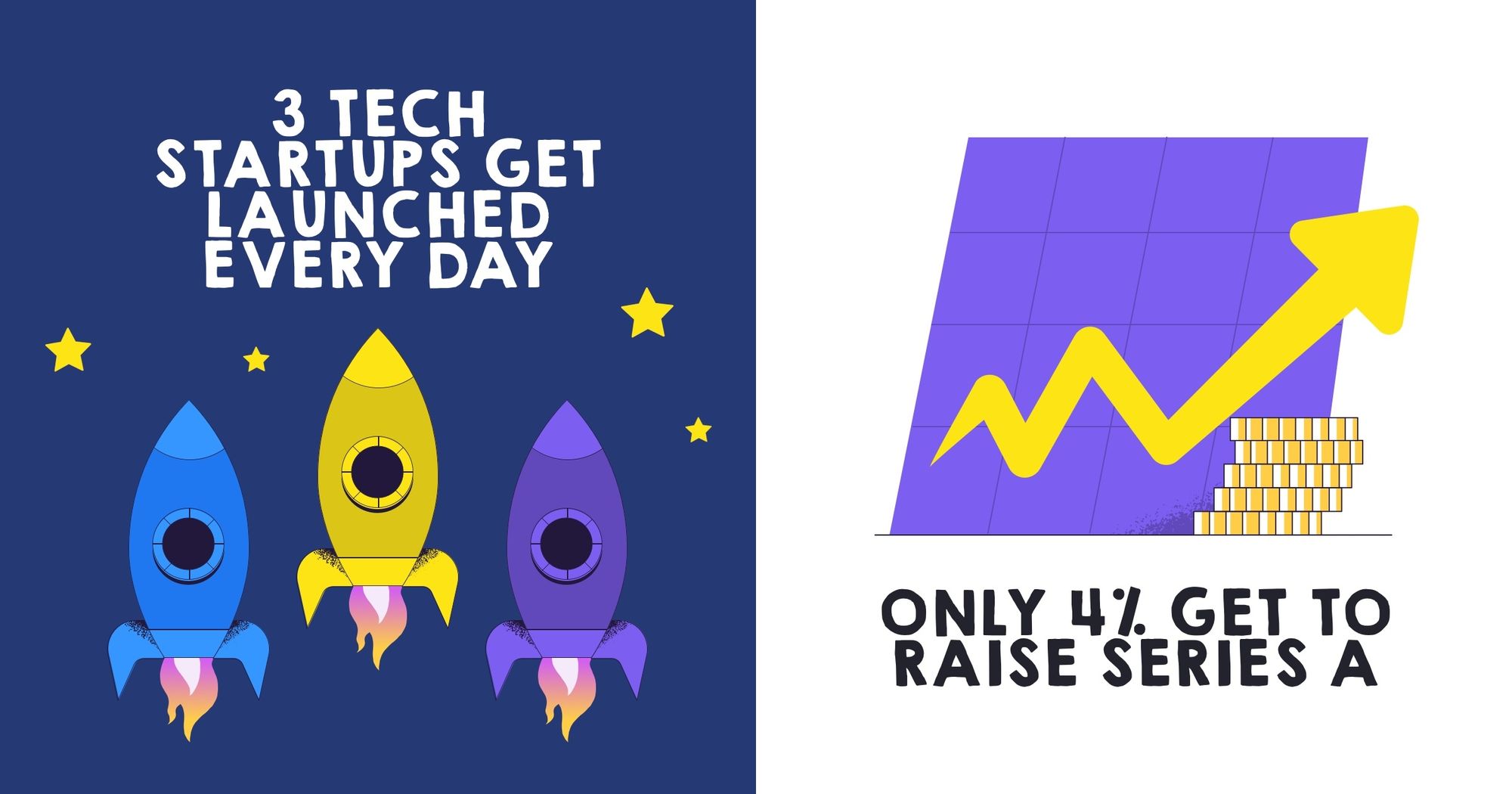 I am proud to say that about a year ago I was the first new employee acquisition Treblle made before starting to grow the team in other directions. Of course, Vedran and Darko already put things in motion a month or so before I was in the picture.
This turned out to be a blessing for me. The company's digital marketing strategy was already being taken care of by Ivo, Aleksandar and Stefan from Solveo. They were a great help to me while I was getting onboarded.
They have already put things in motion and were getting Treblle "out there" through social media posting, referral links, SEO, content, PR, and some good ideas like launching on Product Hunt and some other listing pages. I was basically a long for the ride in the first few weeks.
If you are trying to get inside a tech startup be prepared to learn fast and learn a lot. I am not a developer, so I took every chance I could to learn what is an API, how API monitoring and observability work, why companies need this kind of tool etc.

One of the things that really helped me was sitting down for interviews, be it with potential clients or with potential new co-workers. I heard Treblle explained by Vedran and Darko again and again, and each time I learned something new.
Just to give you an example of how dynamic it can be. During my first few weeks in, the team was already preparing to launch a new and refreshed-looking website. At the same time, we were preparing for Websummit and our first Product Hunt launch.
Seemed like I had a lot on my plate almost immediately. Turns out, if you want to succeed, you simply have to find a way to deal with it and get the best you can out of it.
💡
Key takeaways for new marketers in the developer world:
- Find ways to learn fast (sit in on meetings, ask many questions)
- Be proactive as soon as you can
- Be prepared for a lot of things happening fast and at once
Going to Conferences: The Websummit Experience

So, why did we go to Websummit anyway? There's a whole story behind it which you can read in 2 blog posts written by Vedran.

Leap of Faith describes how Treblle came to be, and A million reasons you should go to Websummit 2021. is where Vedran tells you a story of how Websummit helps you succeed if you leverage all that it offers you as a startup.

This was their second visit to Websummit. The first one went so well that Vedran decided to pay them a visit once more and to write about it. We posted it a few weeks before the summit on Twitter and it got reposted quite a bit, and more importantly, it got reposted by Paddy Cosgrave, the CEO of Websummit.
Organic visitors skyrocketed for a few days after posting that. This showed me the power of Twitter when you post the right thing at the right time.

Still, I was pretty surprised by this. Coming from a world of marketing for a wide variety of things, news on why you should visit some conference really didn't seem to be a big deal. It might even look like a promotional text paid by the conference itself. And it was not. It was all super organic. So, why is that?

As I learned, developers hate, like really despise marketing and this is like some unspoken truth that they all seem to understand. It's almost like a dogma of developers.

The other thing I learned is, developers, like to trust their information, and they all use one hack to get that information in pure form. The hack is, that they almost exclusively listen to advice from other developers.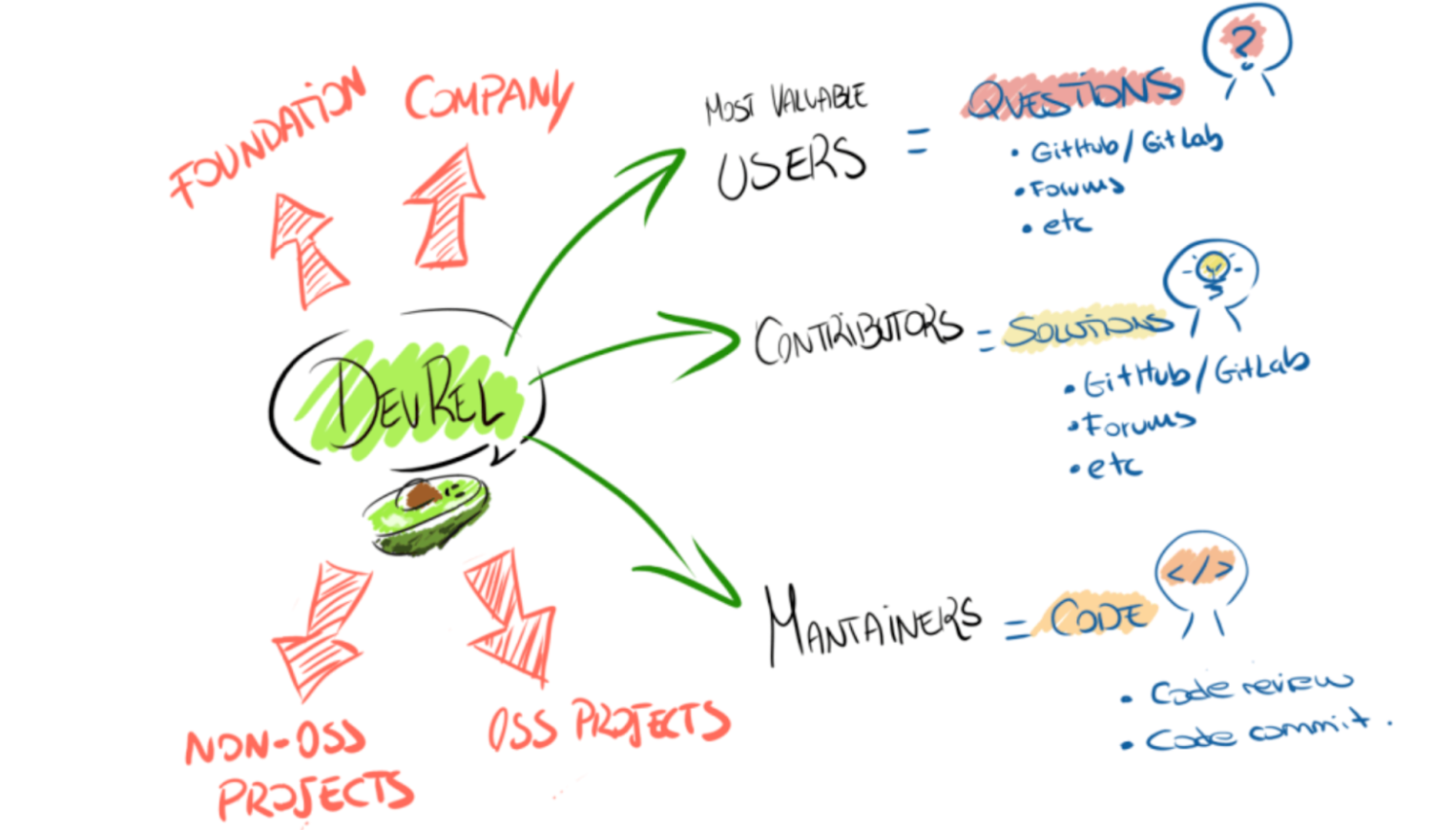 So, a developer wouldn't write about going to a conference if they did not deem it worth writing. They most certainly found some value in it, and because other developers almost intuitively understand this, they will at least take a peek to see what this text is about.

So, if you have a developer as the CEO, make them write about things. Of course, it helps if they already have a following or at least, a lot of experience that gives them authority. I was lucky since Vedran is a genius developer with a decent following and awesome social and writing skills.

However, even if you have a problem with your CEO (maybe they're not a good writer), you can write it for them. You'll need to have a meeting or two to get the information out of them and to brainstorm the topics you would like to write about, but it can be done.

Results from our second visit to Web Summit? They were not overwhelming, to be honest.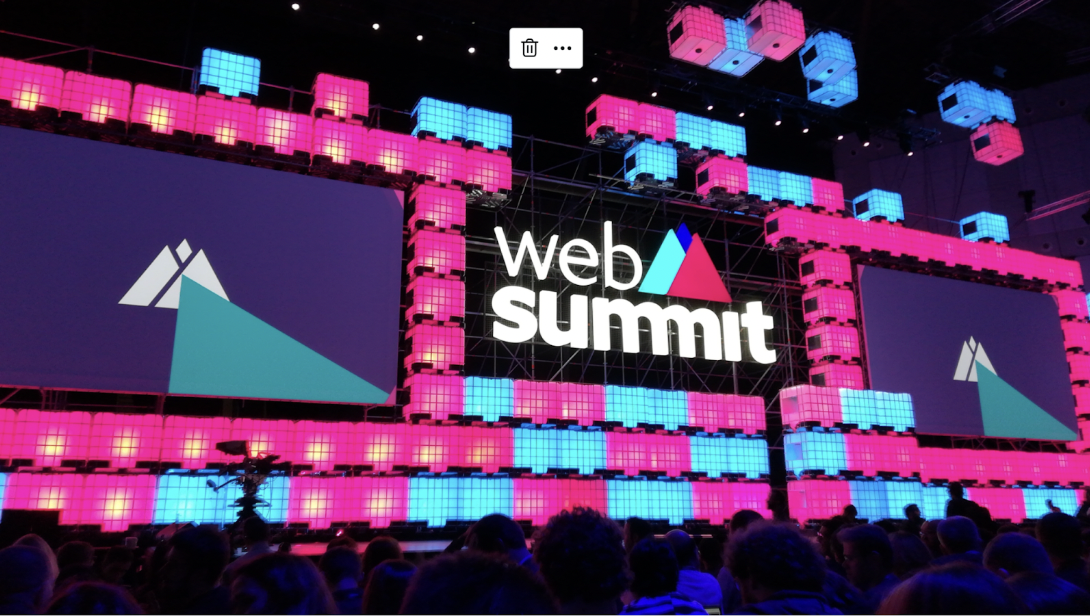 I got the team to send me some pictures and videos from the pitching competition. It was a great opportunity to get some interesting content for our social media.

However, you need to be a bit patient to see actual results. Sure, conferences like this can help your product's visibility and growth immediately, however, it will not be sustainable. Similarly like ProductHunt, it will give you a boost and if you do things right you'll see a spike in traffic and leads.

You need to be ready for this. It's all for nothing if you get 50 new contacts and never follow up on them. So, have a plan of action when you come back home. Reach out, send some emails and make some calls.

I would recommend visiting at least 2 - 3 big conferences a year. Just make sure you have a plan on what to do once you get those leads.

Also, if you can, get a booth. People will come to you for a demo and ask questions. These are invaluable. Remember the or write them down. It's a great learning experience and as soon as you have answers (if not already) you can develop those into great pieces of content.

I know, as a SaaS in the developer market you need to act quickly and Startups need to show results sooner, rather than later. Still, it's OK to take a breather, come up with a strategy and try to achieve some goal within 2 or 3 months. Pick a lane and focus on it.
💡
Key takeaways from visiting conferences:
- Visit at least 2 or 3 big ones a year
- If you can, get a booth
- Get your CEO to write or get them to give you information so you (or a writer) can write
- Have a strategy in place for leads
- Make content by getting insights and questions from attendees

3, 2, 1… Liftoff - Launching on ProductHunt
The thing that will (at least for a few days) boost your signups and website traffic is Product Hunt. Well, ProductHunt - launch done right.

There's a bunch of advice floating around about how to do a Product Hunt launch, so I won't bother you with another one of those. If you are looking for some here is one really useful  ProductHunt guide I found just recently.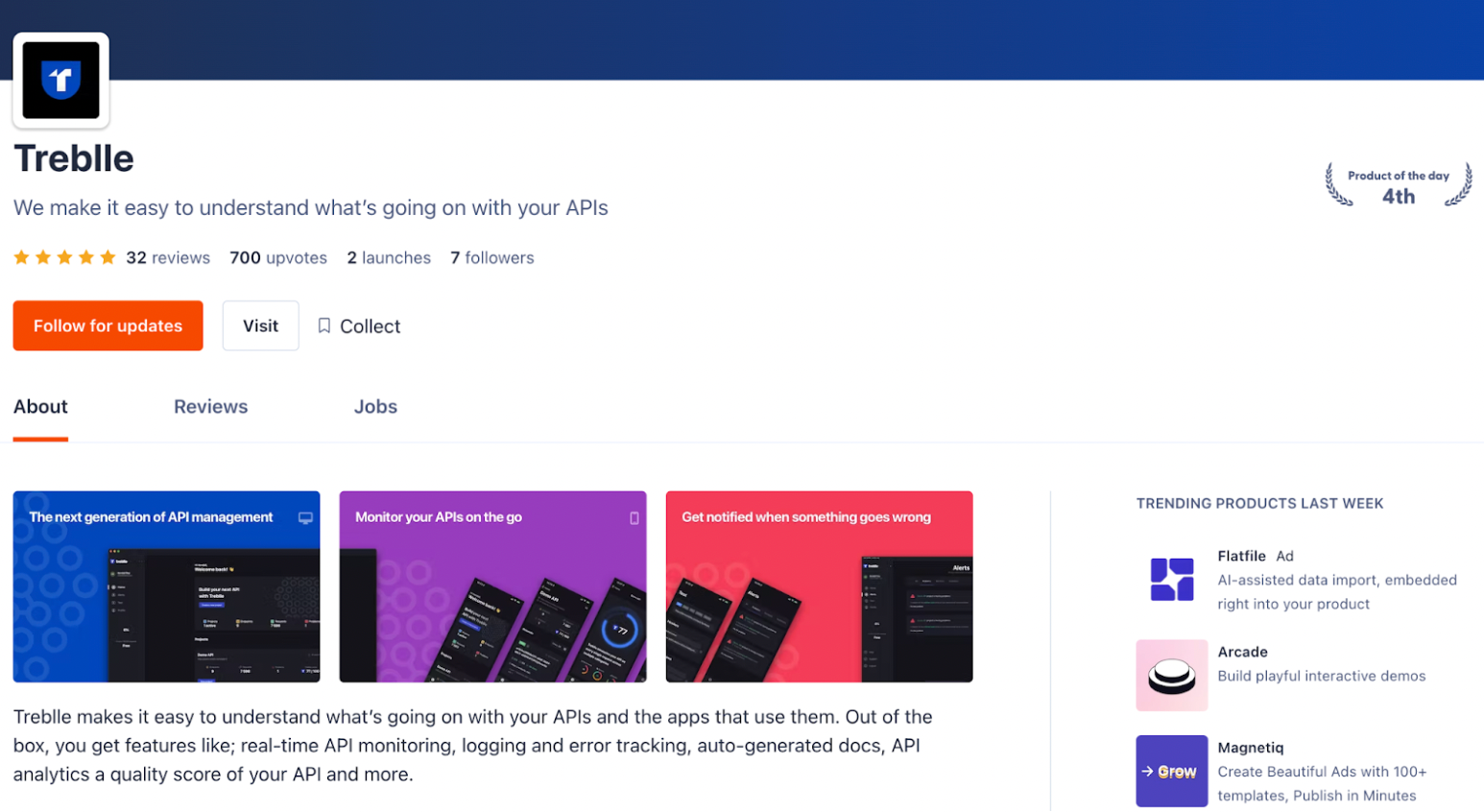 The best advice I can give you is after you prepared everything and have stuff in place, on the day of the launch there's not much you can do, so sit back and relax.
OK, it's not completely out of your control, like I said, you can set things up. We had 2 PH launches. Ended up 7th the first time and 4th the second time around. The first time around we had a ship page, but that didn't really help us on the day of the launch.
Here are the most important takeaways from our first 2 launches:
Reach out to hunters in your space. A great hunter goes a long way in assuring your product gets proper exposure. Search in google: "List of top hunters on Product Hunt". Many of them actually do it for free.
Prepare some special packages for new users that discover you that day- Engage with the Product Hunt community at least a couple of weeks before the launch. The sooner, the better. Get your teammates in on it as well. Product Hunt doesn't really like your upvotes coming from people who just created their profile or from profiles that are mostly inactive.
Make an animated logo (not kidding, this helps you stand out)
Try and get a hunter with a big following within your space. Whenever this kind of hunter "hunts" a product, all of his PH followers get notified about it.
Have partners and/or friends that have any kind of following to tweet or post about it on social media. It helps if you tell them specific times when to post.
If you are using influencers, try to cover them globally. If you only have Europeans, the Americans will probably not see those posts. When you launch on PH it lasts for 24 hours.
It's great to end up in the first 5 or 10 for the day of the launch, however, don't forget you can also try and be in the top 10 of the week. You'll end up in the PH newsletter for both, and twice as much exposure is always better, right?
We'll be launching for the 3rd time this November. Hopefully this time we'll finally end up in the first 3 positions. Fingers crossed!
💡
Key takeaways for Launching on Product Hunt
- Try to get a good hunter for free
- Engage the community sooner rather than later
- After you prepared everything, sit back and relax

Website Redesign
This is a tricky subject to tackle, especially when you are talking to a seasoned web dev. Web devs (the really good ones) are obsessed with the web performance. Everything needs to be loading at light speeds.

However, remember how developers hate marketing? Well…
User Expirience (Developer Experience, DX)
Third-party cookies are soon going to be a thing of the past, however, we still need to have some insight into how our website is performing, so we do need to have Google Analytics (We have GA4 from the start).

The first website we had was made in a week. It was there just to have something, a place where you can see some basic things and sign up. The current Treblle website looks pretty good. It gets you the information you need. It has some super cool-looking front-end magic.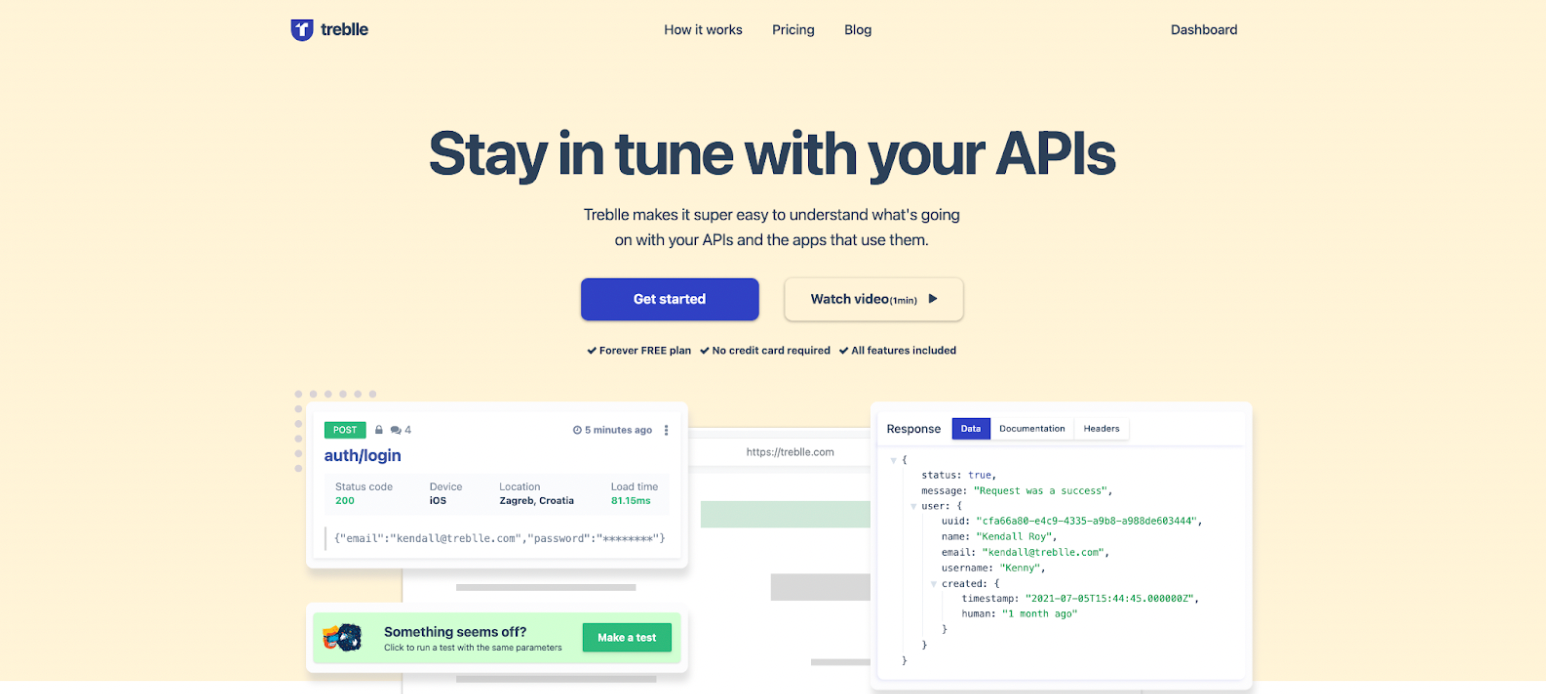 We wanted it to appeal to developers. And it does. We got a lot of positive feedback for it. We are now in the process of reworking it once more. We want to give our users an onboarding experience that flows like water.

The sign-up is now super easy, as is, however, we want people to have a little bit more information about what Treblle does and how it helps even before you add the Treblle SDK to your API.


Messaging

Finding the right messaging is no easy task. Treble can be used in almost any industry and by many various roles. There are a lot of APIs out there. We are used by companies working in the travel industry, fashion, entertainment, human resources, property management etc.

If you can, find your value proposition fast, and make it super easy to understand the thing that you do. We are currently using "Stay in tune with your APIs". It's short, cool, and catchy. However, it is not really conventional so it might confuse somebody. We will update our own value proposition with the new launch. We are narrowing down who we are talking to (by developing our ideal customer profile or ICP).


When you figure out your ideal customer you can improve your messaging. When you know WHO you are messaging it is way easier to determine the HOW. You just need to get to know them, and understand their, pains, needs and what gains are they after.  

There's no need for being super clever and to have super poetic. Just tell your audience what your tool does and SHOW what it can do for them. Find your customer's pain points and address them.


Blog

Definitely have a blog. Also, docs can definitely help. We are currently developing ours. If we had them before we might've got our 10K users even faster.

I recommend having blog posts at least once a month, but if you can have 20, go for it. Just be careful if you plan to push out a large amount of content. Google will rank you faster for a topic if you have a lot of content, but it does need to be relevant.

Don't push out generic content that everybody has already seen. For example, we don't have a post titled "What is an API", because there are already a lot of texts about it. We instead talk about API observability, API monitoring, and best practices.

You can also write outside of your niche and give out valuable content. Maybe a text like this where you give an overview of your journey, or interesting insights about how to make a pitch deck, or how to present yourself at a tech conference.

For example, Vedran wrote about swag at conferences, but he also wrote very technical about how we scale on AWS.

Those texts don't tell you about APIs, instead, it tells you about how we are growing and what we are using to grow.
💡
Key takeaways for a SaaS startup website:
- Most likely, if you are starting off you will have several redesigns within a year ot two, so keep your mind open
- Continuously work on your messaging and determine your ICP
- If you are product, have documentation
- Have a blog and post consistently about relevant topics, even if they are not inside your immediate niche
Testing all marketing approaches
First of all, you need to be omnipresent on the web. Of course, you'll have Twitter and LinkedIn, and probably Reddit (although for Reddit you'll need to be really sneaky), but its also good to be present on less known ones like IndieHackers, BizSugar, post on ProductHunt, engage in various Slack and LinkedIn groups.
Don't forget to have free listings on websites like Capterra, G2Crowd, SofwareAdvice and others.

You need to test as many things as you can. Some of the holy grails are finishing in the top spot of your launch day on ProductHunt, and being featured on the first page of Y-Cobminator's HackerNews.

We are still trying to achieve both of those, but we are there. We are present and some of our best customers discovered us there.


Paid Marketing
We tested out Facebook, Twitter, Instagram, LinkedIn, Google Ads, Apple Ads, Reddit…

Anyway, you simply can not know what will work for you until you test it. We are currently testing even more things.

Search out sponsorships. You can sponsor email newsletters, podcasts, and events. Some of those are super affordable.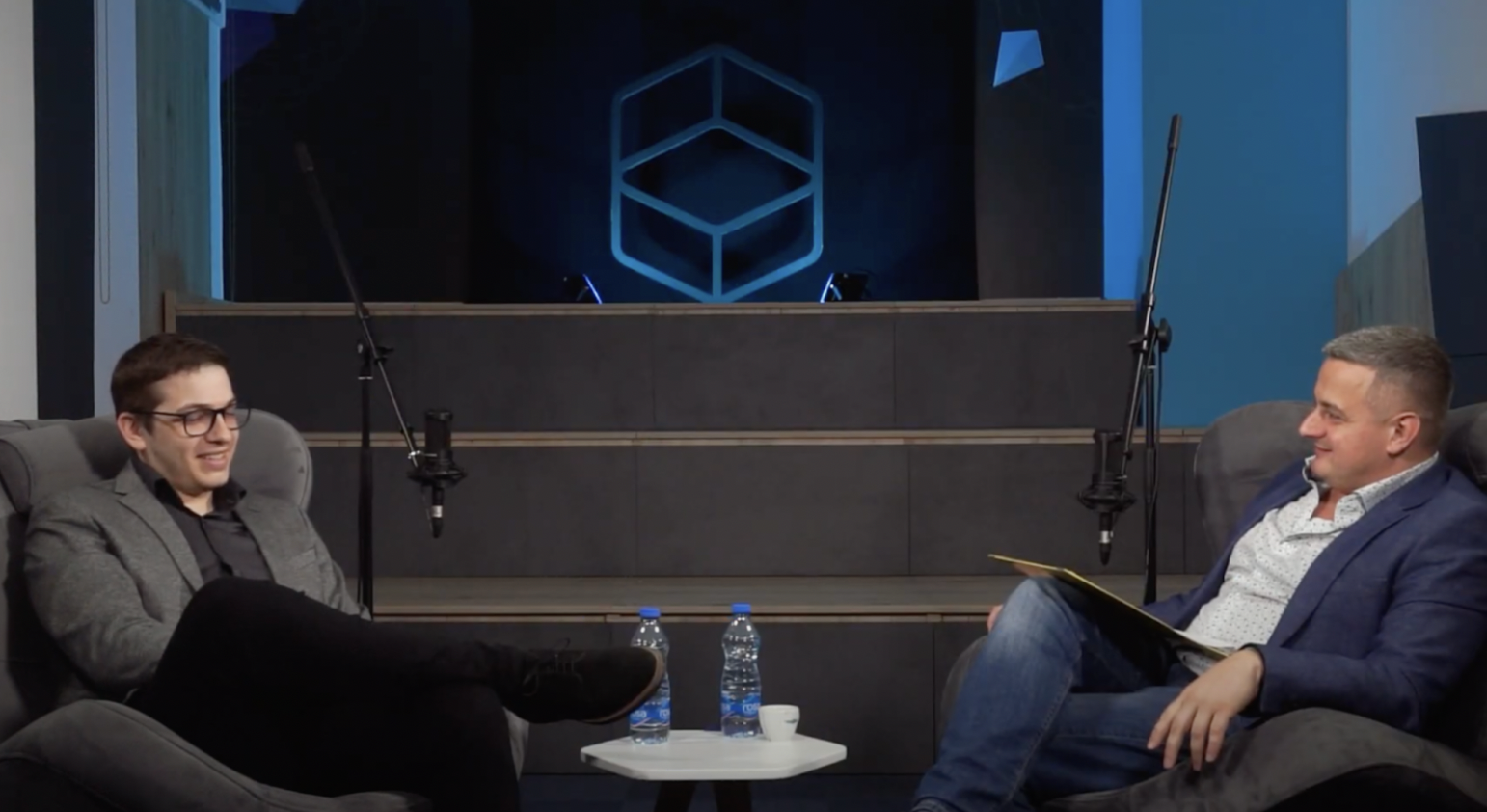 Most of our users from paid advertising efforts came through G-Ads. With google ads, you can use some cool and funny tactics that can get you your sign-ups. Just be careful about where you position them.

If you are just starting up you'll probably have some trouble getting results from Tier 1 countries. At the same time, you don't want to position yourself in the cheapest areas as well, since users from there are not the most active ones. So, you'll need to balance this.

Living in the fast lane
Rarely will you stumble on something that works for you right away. If you do, consider yourself lucky. Test as much as you can before deciding and doubling down on a thing.

For example, we had a Reddit community that was seeing some pretty good growth. We thought we had transparently communicated who we are and what we do. However, we didn't. That with the combination of not yet knowing how strongly developers despise marketing almost turned into a disaster.

We had almost 1000 followers, and when we posted that Treblle launched on Product Hunt it turned out to be a bad idea with people questioning our motives. It seemed very unfair to us, but we did not want to get into an argument, so we simply apologized and explained as best we could.

A few months later I opened up a Slack community named Treblle Slack Communuty. So, no misunderstandings are possible. That community grows a lot slower, but, at least what we are getting are actual users, with actual questions about the product.

Back to testing. Fast testing is not recommended really. And you need a significant budget to try and figure out if something is working or not. However, I wouldn't say you shouldn't do it if you don't have those 2 things (time and money).

Try it out. Dip your toes into the water. You can always come back to some of them after you get more learnings. We used LinkedIn in the first 2 months, then stopped. However, now there might be a reason where we'll need to try something out again, and now we know how the platform works, and how much it approximately costs and we know what we might get from it.

So, do not shy away, test, test, test, and learn, learn, learn.
💡
Key takeaways for a SaaS marketing approach:
- Be Omnipresent, but pick 1 or 2 channels as your main ones
- Tryout paid marketing to get learnings
- Test out different approaches (different messages, visuals, channels…)

We got some users, now what?
Getting users is great! However, many of them might be jumping in just out of curiosity, or they might be riding a hype train you produced and they aren't really active or they might even churn.

Churning is normal. There can be a lot of reasons why a user stops using your product and some of those reasons might not even be your fault. However, some of them are. But how can you tell the difference?

I am not going to tell you to use this tool or that one. We spent a lot of time looking for tools that can help us out and in all honesty, although we now know way more than we used to, we are still looking for an ideal way to activate as many users as we can.

After testing a lot of the tools that are out there we ended up using Active Campaign for now and we are planning to integrate one more tool to deepen our knowledge of user behavior. We have an in-house built one that covers some of the basis, but we want more.

Whatever you do, do not give up and keep trying to determine the best ways and approaches until you figure it out for yourself. Just remember, it's a process, be patient and consistent.

For example, we use AC for email automation and building up sales funnels. However, we are constantly reevaluating the messaging, constantly analyzing performance and then we act based on those learnings. We might answer questions like, why are the users not clicking on a link we provided, do we have too many or too few emails that we are sending out to them, etc.

Once you get the users, take good care of them. You will need tier support in the future. Who knows, maybe there's a future product advocate in there somewhere. They'll support you when you need to get those pesky reviews on G2, Capterra or when you do a new release on Product Hunt.
💡
Key takeaways on what to do with users:
- Don't be afraid of churn, it's normal
- Test a lot of tools before deciding on the one best for your situation
- Continuously evaluate your messaging and analyze if the tool you're using is giving results
- Be patient and have a strategy

In Conclusion

If you are here, thank you for reading this. I hope it helps you on your journey. Keep in mind, we are still learning as well, and there are a lot of humps we need to get over until we can say we are fully satisfied.

Keep your eyes on us in the upcoming months. There will be more learnings I'll be sharing with the community, and support us on our Treblle V2 Product Hunt launch this fall.

Like always,
Stay in tune with your APIs!